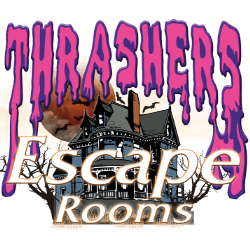 All games are 60-Mins with 4-8 players
Age Limit: We generally advise that escape rooms are not suitable for kids under 10. The puzzles are typically too difficult for that age group, though we will make exceptions if they are part of a larger family group. Remember, even college students and adults find escape rooms a challenge! Adults are required to accompany groups that include minors.
4 Players is $120 ($30 per person)
5 Players is $125 ($25 per person)
6 Players is $150 ($25 per person)
7 Players is $175 ($25 per person)
8 Players is $160 ($20 per person)
Plus Credit Card and Processing Fees
All games are non-refundable. No Cancellations will be accepted.
The more players, the better the deal!
How do you get your digital ticket?
Once you check out and pay. You will receive a confirmation email of your purchase. Click on the view order and you should see a link at the top of your order the says
Click_to_download_tickets

. It will open a new window and you will have the option to download the ticket or add to Apple wallet.